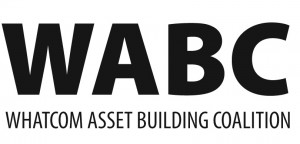 The Whatcom Asset Building Coalition (WABC) is a community collaboration supporting financial self-sufficiency through education and advocacy.  We are one of 19 Asset Building Coalitions in Washington state and we are a member of the Washington Asset Building Coalition.
Mission: Our mission is to foster collaboration in the community to increase the financial stability of low-income people in Whatcom County.
Goals
Increase cooperation and mutual support among agencies and individuals working to address financial stability and financial literacy needs.
Facilitate widespread knowledge about existing financial resources, both for people in need and the organizations that are trying to help.
Raise community awareness about the need for asset building and encourage community support for strategies to address the problem.
Increase awareness of and participation in the Earned Income Tax Credit (EITC).
WABC Members
The Whatcom Asset Building Coalition is open to anyone who wishes to join.  Members contribute in a variety of ways to support the work of the Coalition, including the contribution of administrative support, meeting space, printing, etc. The Opportunity Council serves as the lead agency for the Coalition.